Colorado Unemployment Benefits Fraud Is Prosecuted As Felony Theft – Computer Crime
By H. Michael Steinberg – Colorado Ciminal Defense Lawyer – Attorney
Colorado Unemployment Benefits Fraud Is Prosecuted As Felony Theft – Computer Crime – Fraud requires an intent and a specific knowledge that you are committing a crime. Investigations by the Colorado Department of Labor can begin by a simple request that you repay payments that were made in error. If you ignore "the call" from an investigator from the Colorado unemployment benefits fraud section – you do so at your own peril.
This article addresses what you need to know about the kind of trouble you can expect. This may assist you in the decision to hire a lawyer or to represent yourself.
The Typical Scenario – Colorado Unemployment Benefits Fraud
A defendant files for unemployment compensation under the law and guidelines set out by the
Colorado Department of Labor and Employment. To obtain the benefits you must use what was once called the online system called the CUBLine which is an interactive computer system with which unemployment claimants communicate over the telephone.
As of 2013 – the date of this article the new system is called MyUI. This tool permits the applicant to use and online system to: https://myui.coworkforce.com/Welcome
Request payment
View their balances, payment information, and history
Check their current claim status and information
Review their benefits eligibility
Register for work and view their work-search information
Use Of The Computerized System Whether Online Or By Telephone Meets The Definition of Computer Crime In Colorado
Over a period of months if not years, the person collecting benefits typically makes biweekly claims for unemployment benefits, each time using the Department Of Labor's computer system.
The answers to the questions about your current employment situation are documented by the computer system. If you lie – you have most likely committed Unemployment Insurance Fraud In Colorado.
The Crime of Theft in Colorado requires that an accused intend to permanently deprive the Colorado Department of Labor money. The Computer Crime charge arises out of the allegation that the theft is committed through the use of a computer for the purpose of obtaining money from the Department.
In a recent case – People v. Rice, the Colorado Court of Appeals found that evidence that Rice used the CLUBLine computer system over the telephone to obtain her biweekly unemployment benefits met the definition of "accessing" a computer system to commit the theft.
" Access" was met by the "opportunity or ability to enter, approach, pass to and from, or communicate with" the state's computer system and that the ordinary meaning of " access" is not confusing or overly technical, and is readily understandable by an ordinary person of reasonable intelligence. The case makes it simple for the state to prove that element.
But what about the element of the crime that requires the intent to commit fraud?
The Criminal Prosecution of Unemployment Fraud In Colorado
The devastating impact of the recession of 2008 on employment figures needs no further mention. Good people struggling to make ends meet were (and still are) compelled to accept employment paying substantially less than what they made before the so called "Wall Street bubble" burst.
On the other hand Colorado's Department of Labor and Employment has seen an explosion in fraudulent activity as individuals struggle to meet the demands of the new reality.
According to a Colorado spokesperson, this fraud is investigated and prosecuted "pretty aggressively," because       " fraud affects the integrity of the fund employers pay into, but it also affects people who have a legitimate claim."
Colorado Unemployment Benefits Fraud Is Prosecuted As Felony Theft – Computer Crime – How Unemployment Fraud  Is Discovered
Unemployment fraud happens when formerly unemployed people obtain new jobs and then continue to collect unemployment payments. The Colorado Department of Labor regularly checks unemployment claims against a national database of newly employed people.
In addition – the fraud tip line relies on citizen snitches who report the crime which triggers the subsequent investigation of suspected investigate fraudulent claims.
A staff of criminal investigators have desks full of pending cases and new investigator are being hired by the state on a regular basis. If the investigating team – as a result of an audit of your account and unemployment compensation claims – makes a determination that fraud "happened"  and there is no response on the part of the employee to try to settle the over payment, – the case is "packaged" and forwarded to the District Attorney's office for criminal prosecution.
It is at this point – that it may be too late to work out a deal to prevent the filing of criminal charges.
If you suspect you are under investigation – do NOT wait to call a lawyer who understands these cases.
Colorado takes these cases much more seriously than many states. Not only is there a criminal prosecution in many of the higher dollar cases, state law permits a fine people 50 percent of the benefits over payment.
In 2013 Governor Hickenlooper Ups the Ante In The Prosecution Of Unemployment Insurance Benefits Fraud
As noted – if and when you are indicted or otherwise charged in a Colorado County or District Court, the charges most likely will be Theft, Fraud (as defined in § 8-81-101(1)(a) = fraud for purposes of unemployment benefits includes false statements or representation of a material facts (of course – knowing them it to be false) . . . with the intent to defraud by obtaining or increasing any benefit), and most likely computer crime. Your name may also be uploaded to the State's website of shame along with a picture if they have one.
The penalty, as a result of new legislation supported by the governor ups the ante under § 8-81-104(4)(a)(II) imposing a mandatory penalty against you over and above the the over payment. The new penalty – under 18-81-104 is the total amount of the over payment plus a penalty of 65%.
Most importantly, there are significant criminal consequences for employees who receive improper overpayments of unemployment benefits.. If employees find themselves in this situation, they should immediately contact an experienced criminal defense attorney who can hopefully prevent the formal filing of criminal charges through negotiation, which often results in immediate repayment of the overpayment
But What About The "Fraud" in Colorado Unemployment Insurance Fraud?
Fraud – by its nature – has to be an intentional – not a negligent act. Examples of "fraud" include providing phony names, social security numbers, addresses, phone numbers and current and, of course, incorrect employment information. An intentional misrepresentation of who you are, and what your real employment situation actually is is the equivalent of fraud… IF it was intentional and done to unlawfully "defeat and beat" the system. It becomes a crime to intentionally provide "wrong information" about yourself or someone else in the filing a Colorado unemployment insurance claim.
So – for example – you cannot use your best friends personal information to collect unemployment. Not only is this theft, unemployment insurance fraud, and computer crime, it is identity theft. LINK
Not Reporting Your Income
You are require to always disclose any extra income you earned in any given week. Part-time jobs, freelance consulting, any contract work – ALL require you to disclose your wages.
The Federal Prosecution of Unemployment Benefit Fraud – & State / Federal "Partnerships"
The Federal Government also prosecutes unemployment insurance fraud. Often these cases are the result of claims for unemployment benefits for former military personnel and the false use of false names, Social Security numbers, dates of birth and fake military records
The federal government is heavily involved in the prosecution and collection of fraudulently obtained unemployment benefits. The Trade Adjustment Assistance Extension Act of 2011 as well as other legislation has led to a "partnering up" of the federal government and the states to go after fraudulent and other non-criminal overpayments.
The Colorado Department of Labor and the Treasury Offset Program (TOP)
Unemployment fraud recovery is now a familiar term at the Colorado Department of Labor as the DOL and the Federal government (the Treasury Offset Program (TOP)) work together to use the state income tax – department of revenue vis a vis a new "intercept program" to recapture over payments. TOP, which is another federal – state partnership that is used to intercept federal tax refunds from those – across the county – who refused to repay unemployment benefits.
Real People Are Prosecuted and Their Faces and Names Are Published Online (click this LINK)
Your name may also be published online by the Colorado Department of Labor and Employment website as a "shame tactic" and to serve as a "deterrent."
The Defense Of Colorado Unemployment Benefits Cases in Colorado
Colorado Unemployment Benefits Cases require a specific understanding of the inner workings of the Colorado Department of Labor coupled with a careful and intelligent defense of the case based upon an understanding of the elements of fraud. If the evidence of fraud evidence is conclusive – then negotiating other aspects of the case with the assigned Colorado County DA – prosecutor or Colorado attorney general is critical .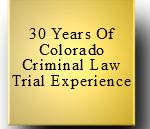 In more than 30 years over both prosecuting and defending these cases  – H. Michael Steinberg has handled dozens of situations – just like yours all over the state of Colorado.
Colorado Unemployment Benefits Fraud Is Prosecuted As Felony Theft – Computer Crime
ABOUT THE AUTHOR: H. Michael Steinberg – Email The Author – A Denver Colorado Fraud and Theft Crimes Criminal Defense Lawyer – or call his office at 303-627-7777 during business hours – or call his cell if you cannot wait and need his immediate assistance – 720-227-7777.
If you are charged with A Colorado crime or you have questions about Colorado Unemployment Benefits Fraud Is Prosecuted As Felony Theft – Computer Crime, please call our office. The Law Offices of H. Michael Steinberg, in Denver, Colorado, provide criminal defense clients with effective, efficient, intelligent and strong legal advocacy. We can educate you and help you navigate the stressful and complex legal process related to your criminal defense issue.
H. Michael Steinberg, is a Denver, Colorado criminal defense lawyer with over 30 years of day to day courtroom experience – specializing in Colorado Criminal Law along the Front Range. He will provide you with a free initial case consultation to evaluate your legal issues and to answer your questions with an honest assessment of your options. Remember, it costs NOTHING to discuss your case. Call now for an immediate free phone consultation.
Helping Clients To Make Informed Decisions In the Defense of Colorado Criminal Cases.
Contact A Lawyer with Three Decades of Experience as a Denver Criminal Attorney at The Steinberg Colorado Criminal Defense Law Firm Today.
Colorado Defense Lawyer H. Michael Steinberg provides solid criminal defense for clients throughout the Front Range of Colorado – including the City and County courts of Adams County, Arapahoe County, City and County of Boulder, City and County of Broomfield, City and County of Denver, Douglas County, El Paso County – Colorado Springs, Gilpin County, Jefferson County, Larimer County, and Weld County,…. and all the other cities and counties of Colorado along the I-25 Corridor… on cases involving .. Colorado Unemployment Benefits Fraud Is Prosecuted As Felony Theft – Computer Crime.
Other Articles of Interest:
If you found the information provided on this webpage to be helpful, please click my Plus+1 button so that others may also find it.
___________________________
H. Michael Steinberg Esq.
Attorney and Counselor at Law
The Colorado Criminal Defense Law Firm of H. Michael Steinberg
A Denver, Colorado Lawyer Focused Exclusively On
Colorado Criminal Law For Over 30 Years.

DTC Quadrant Building
5445 DTC Parkway, Penthouse 4
Greenwood Village, Colorado, 80111

Main: 303.627.7777
Cell: 720.220.2277
24/7 Pager: 303.543.4433
FAX (Toll Free): 1.877.533.6276

Always investigate a lawyer's qualifications and experience before making a
decision to retain that lawyer or, for that matter, any professional ...in any field.