Understanding Criminal Law In Colorado – Disorderly Conduct 18-9-106 Misdemeanor – Petty Offense
By H. Michael Steinberg – Denver Colorado Criminal Defense Lawyer
Understanding Criminal Law In Colorado – Disorderly Conduct 18-9-106 Misdemeanor – Petty Offense – Any close look at the charge of disorderly in Colorado requires a close study of the law 18-9-106 – why the charge is made – under what circumstances – and the development of defenses where possible ..especially where the charge violates the constutitonal rights of Colorado citizens 
To successfully defend against the charge of disorderly conduct in Colorado – such as the city and county courts such of  Denver… Always Start With The Law involved … what IS the Crime of Disorderly Conduct (18-9-106)?
Colorado Misdemeanor Disorderly Conduct Law (18-9-106)
1. A person commits disorderly conduct if he or she intentionally, knowingly, or recklessly:  
(a) Makes a coarse and obviously offensive utterance, gesture, or display in a public place and the utterance, gesture, or display tends to incite an immediate breach of the peace; or
…
(c) Makes unreasonable noise in a public place or near a private residence that he has no right to occupy; or
(d) Fights with another in a public place except in an amateur or professional contest of athletic skill; or
(e) Not being a peace officer, discharges a firearm in a public place except when engaged in lawful target practice or hunting; or
(f) Not being a peace officer, displays a deadly weapon, displays any article used or fashioned in a manner to cause a person to reasonably believe that the article is a deadly weapon, or represents verbally or otherwise that he or she is armed with a deadly weapon in a public place in a manner calculated to alarm.
….
3.(a) An offense under paragraph (a) or (c) of subsection (1) of this section is a class 1 petty offense; except that, if the offense is committed with intent to disrupt, impair, or interfere with a funeral, or with intent to cause severe emotional distress to a person attending a funeral, it is a class 2 misdemeanor.
(b) An offense under paragraph (d) of subsection (1) of this section is a class 3 misdemeanor.
(c) An offense under paragraph (e) or (f) of subsection (1) of this section is a class 2 misdemeanor.
The Charge of Disorderly Conduct Is A Favorite Of The Police Officer On The Street – A Kitchen Sink Charge
As an ex – prosecutor – I am all too aware of the favorite "kitchen sink: charges filed by "the cop on the beat." Disorderly conduct is one these – and is probably the most common crime charged  in the United States.
Many writers have addressed its use as Disorderly (Mis) Conduct, as it is charged by the local police officer when nothing else fits or if a person gives the officer a hard time.
The sections of the statute are a laundry list of annoying behaviors. Unruly or disturbing behaviors like the ones described are usual fare on the street – but the arrest that follows – the possible conviction the jail time and the long term impact of the crime – are no laughing matters.
Understanding Criminal Law In Colorado – Disorderly Conduct 18-9-106 Misdemeanor – Petty Offense – Collateral Impact of The Conviction – The Consequences of Disorderly Conduct
A conviction for disorderly conduct in Colorado may at first seem insignificant. But we live in a world of keen competition for very job and every advancement – background checks mean a difficult time achieving the educational, career, and other opportunities in our futures.
Therefore a simple Colorado disorderly conduct conviction may influence the outcome – and change – anyone's life forever. Not only that but a disorderly conduct conviction can bring significant punishment which include fines, public service, mandatory counseling, and possible jail time.
The Abuse Of The Charge of The Disorderly Conduct Charge In Colorado
When properly charged – law enforcement – the police – use the crime of disorderly conduct when someone in a public place is behaving in a disruptive manner to themselves or others, but does not present any other serious public danger.
Disorderly Conduct laws – by there very nature – are often drafted using overly broad and vague definitions. These laws – including Colorado's – often come face to face with the First Amendment 's prohibition against restricting the right to freedom of speech and assembly. In fact – sections of Colorado's law have been voided as unconstitutional on multiple grounds.
The right of the police to arrest individuals who passively or verbally defy them is the issue in these cases. The "overuse" of the disorderly conduct charge and similar statutes who arrest people who "disrespect" them or "disagree" with their actions is well known to Colorado criminal defense lawyers.
Abusive and unnecessary arrests for disorderly conduct cause significant harm not only to those who have been arrested – but it is also about the appropriate balance between police authority and the Colorado citizen's right to question the exercise of that authority.
The Right To Express Yourself Under The First Amendment – A Defense Against The Crime of Disorderly Conduct
Under the First Amendment – the police CANNOT arrest citizens for how they talk to (or yell at) the police. Speech that is loud, disrespectful, profane, and even insulting is protected under the 1st Amendment. While words that by "their very utterance inflict injury or tend to incite an immediate breach of the peace" are unprotected…so called "fighting words" are not protected speech – whether it is directed at a police officer or at a another citizen, – if "fighting words" are directed at the police – there may actually be grounds for an arrest.
While the police have a difficult job – the law requires they tolerate a critique of police action, even it is expressed in an abusive manner. The citizen's right to criticize "government action" lies at the heart of the purpose of the First Amendment.s speech protections.
Our Supreme Court had this to say on the issue:
"The freedom of individuals verbally to oppose or challenge police action without thereby risking arrest is one of the principal characteristics by which we distinguish a free nation from a police state."
Police are trained to exercise a higher degree of restraint than the average citizen. Unlike the rest of us – the police are exposed to belligerent speaking attacks on a regular basis. Therefore a law that prohibits "abusive" language confers on the police virtually unrestrained power to arrest and charge persons with a violation.
In one-on-one situations with the police – where the only witnesses are the arresting officer and the person charged – juries often hear – and believe – the police testimony of the officer that aggressive and threatening language was used against the officer in the "performance of his or her duties."
Disorderly conduct charges are often lodged where there are no other possible legal bases for arresting -what the police beliive – is an objectionable person.
One Denver police officer put it this way:
"Were not going to take abuse. We have to remain in control. We're running the show."
On the other hand ..
As one person arrested for disorderly conduct put it – he was arrested because he flipped off an officer who had threatened him for not walking away quickly enough… not an unusual situation here in Denver, Colorado
No Video
Most of the time there is NO VIDEO available to exonerate the person charged. Furthermore – because of the police said – suspect said disadvantage of this kind of charge and the fact that most often the person does not have the resources to effectively defend against false and wrongful charges, under these stressful circumstances – the defendant often pleads guilty to or may be convicted by a jury on false charges that can lead to time in jail.
Fighting "Contempt of Cop" Charges
This phrase is used when the individual who has been arrested for showing "contempt" towards the police. This can be for something as simple as the officer not appreciating the way a witness or suspect speaks to the officer. 
We, as citizens, have the right to express ourselves as long as we are not behaving illegally. While a citizen may agree with the officer that the targeted behavior of the man on the street is deplorable, repugnant, and even immoral, – that does not make crass or belligerent behavior a crime. If the Colorado citizen speaks out in an attempt to prevent the police from using too much force against another – something that occurs in Denver all too often – that is NOT grounds for charging them with disorderly conduct.
This introduces the subject of "cover arrests."  Cover arrests are arrests that are intended to help justify or explain an officer's use of force or other exercise of authority – in the absence of ANY legal justification for that exercise of authority.
Colorado Disorderly Conduct Charge – Calculating The Harm Caused by "Contempt of Cop"  and "Cover"Arrests – A Conclusion
The harm caused by false arrests for Disorderly Conduct and similar charges such as resisting arrest in Colorado is obvious. Abusive arrests turn lives upside down – subject the innocent to unwarranted force and intimidation by the police, and impacts the level of respect and authority all of us need to have for the police to live in a civilized society. 
While it may seem like a charge of disorderly conduct, resisting arrest, obstruction of justice and similar charges will often result in a night in jail, the result of a plea of gulity creates a criminal record. Even where little jail time results,the creation of a criminal record may mean that a promising future may face ruin because NOW the Colorado citizen must  answer "yes" is now required whenever a potential employer asks if the applicant has ever been arrested and or convicted of a crime.
Understanding Criminal Law In Colorado – Disorderly Conduct  18-9-106 Misdemeanor – Petty Offense
ABOUT THE AUTHOR: H. Michael Steinberg – Email The Author  – A Denver Colorado Criminal Defense Lawyer  – or call his office at 303-627-7777 during business hours – or call his cell if you cannot wait and need his immediate assistance – 720-227-7777.
If you are charged with A Colorado crime or you have questions about Understanding Criminal Law In Colorado – Disorderly Conduct  18-9-106 Misdemeanor – Petty Offense, please call our office. The Law Offices of H. Michael Steinberg, in Denver, Colorado, provide criminal defense clients with effective, efficient, intelligent and strong legal advocacy. We can educate you and help you navigate the stressful and complex legal process related to your criminal defense issue.
H. Michael Steinberg, is a Denver, Colorado criminal defense lawyer with over 30 years of day to day courtroom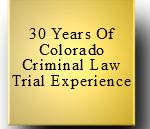 experience –  specializing in Colorado Criminal Law along the Front Range.  He will provide you with a free initial case consultation to evaluate your legal issues and to answer your questions with an honest assessment of your options.  Remember, it costs NOTHING to discuss your case.  Call now for an immediate free phone consultation.
Helping Clients To Make Informed Decisions In the Defense of Colorado Criminal Cases.
Contact A Lawyer with Three Decades of Experience as a Denver Criminal Attorney at The Steinberg Colorado Criminal Defense Law Firm Today.
Colorado Defense Lawyer H. Michael Steinberg provides solid criminal defense for clients throughout the Front Range of Colorado – including the City and County courts of Adams County, Arapahoe County, City and County of Boulder, City and County of Broomfield, City and County of Denver, Douglas County, El Paso County – Colorado Springs, Gilpin County, Jefferson County, Larimer County, and Weld County,…. and all the other cities and counties of Colorado along the I-25 Corridor… on cases involving … Understanding Criminal Law In Colorado – Disorderly Conduct 18-9-106 Misdemeanor – Petty Offense.
Other Articles of Interest:
If you found the information provided on this webpage to be helpful, please click my Plus+1 button so that others may also find it.
___________________________
H. Michael Steinberg Esq.
Attorney and Counselor at Law
The Colorado Criminal Defense Law Firm of H. Michael Steinberg
A Denver, Colorado Lawyer Focused Exclusively On
Colorado Criminal Law For Over 30 Years.

DTC Quadrant Building
5445 DTC Parkway, Penthouse 4
Greenwood Village, Colorado, 80111

Main: 303.627.7777
Cell: 720.220.2277
24/7 Pager: 303.543.4433
FAX (Toll Free): 1.877.533.6276

Always investigate a lawyer's qualifications and experience before making a
decision to retain that lawyer or, for that matter, any professional ...in any field.